Dr Marguerite Harding is a South Australian Neurosurgeon with special interests in brain tumours and spinal disease, providing expertise in Neurosurgical and Spinal management and treatment.
Dr Harding graduated from the University of Cape Town and commenced her advanced Neurosurgical training with mentors at the Royal Adelaide Hospital.
As a respected female neurosurgeon in Adelaide, Marguerite's commitment is to provide complete care, compassion, and education to her patients.
She also feels that educating the next generation is vitally important and really enjoys teaching and passing on her experience.
Russell – Physiotherapist
Russell Turbill joined our team at the Adelaide Neurosurgery Centre in June 2021. Russell is an experienced Physiotherapist, he loves being able to empower his clients through simple and mechanically driven education, exercises, and treatment.
Russell uses a technique known as the McKenzie Method, using repeated movements to better identify the treatment and movement patterns that would benefit the patient. Our patients have commented on Russell's friendly nature and positive impact on their overall outcome and care. Outside of work, Russell is an avid cyclist and reader, and generally loves being outdoors!
Emma
Emma has over six years of experience in general practice, allied health, and private specialist practices. Commencing work with Dr. Marguerite Harding in early 2020, she utilises her proficiency to aid in the management and administrative duties of the practice.
Emma's compassion, understanding and professionalism is evident in the relationship she builds with patients and her work ethic. Her caring nature is unmistakable in her support and consideration of each individual patient, she ensures that all patients feel understood and cared for.
Emma enjoys cooking, spending time with friends, family and her dogs and is an avid reader in her spare time.
Sharnie
Sharnie joined our team in 2021 and offers her friendly and warm nature at the front desk. Sharnie's professionalism, engagement and consideration is apparent in the relationships she builds with patients.
Sharnie will take the extra step to ensure Dr Harding's patients are greatly assisted, her compassionate and welcoming presence is an important part to ensuring patients to feel cared for the moment they walk in the door.
Sharnie loves spending time in her hometown on the Eyre Peninsula, playing sport, cooking and exploring new places with friends and family.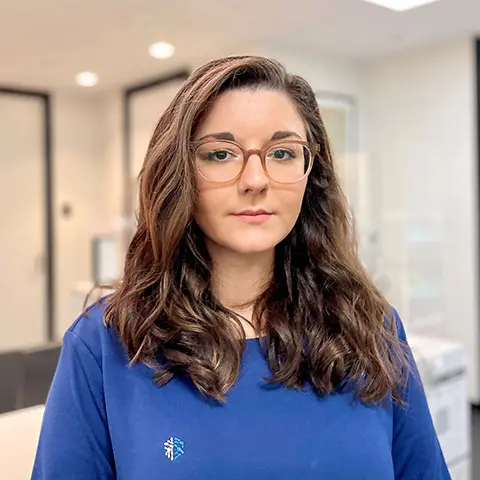 Nickie
Nickie has over 10 years of experience in the medical industry. Working in multidisciplinary allied health, general and specialist practice has given her a holistic approach to all aspects of patient care.
Joining the team at ANC in 2021, Nickie has a strong work ethic, using her extensive knowledge and experience to deliver a consistently positive experience for both our patients and referrers.
Nickie enjoys hiking, gardening, and spending time with her friends, family, and sun conure parrot.