We have moved! You will find our new home in the Consulting Building, Level 5, 120 Angas Street, Adelaide
Online and phone consultations now available
Your optimal care and safety is our priority
We understand that the COVID-19 pandemic has provided flexible options for medical appointment attendance. It has also influenced the comfort level experienced for some patients to attend in person. Please be reassured that we understand and wish to accommodate you being able to access care from Dr Harding in a variety of safe formats.
In centre appointments with Dr Harding are available and offer the benefit of a face to face clinical examination including, but not limited to, the opportunity for direct examination, timely additional testing if required using in-centre equipment, and the occasion for you and your family to meet her in person as your doctor. Please be reassured that in-line with health guidelines and advice, we are practicing prior screening and rigorous hygiene routines to ensure a safe environment.
In addition to this we are also able to provide you with both online and phone consultations as a safe, convenient and travel free alternative to attending in person. Please be aware that there are limitations with this format, especially for new patients, and you may require a further in-person consultation.
Please do not hesitate to contact one of our friendly staff who will be able to help you find a suitable time for your appointment, and provide you with the relevant information to attend in your preferred format.
We have moved to the Consulting Building,
Level 5, 120 Angas Street, Adelaide.
Complete Care, Compassion and Education
At Adelaide Neurosurgery Centre Dr Marguerite Harding and her team provide you with complete care, compassion and education. As a neurosurgeon in Adelaide, Dr Harding understands that when you have to see a surgeon this is an out of the ordinary and sometimes anxious event.
Dr Harding and her team will support you through this journey and provide you with all the information you need to make informed decisions together about your best medical and surgical care for neurosurgery in Australia.
Browse spinal surgery & brain surgery treatment and management services.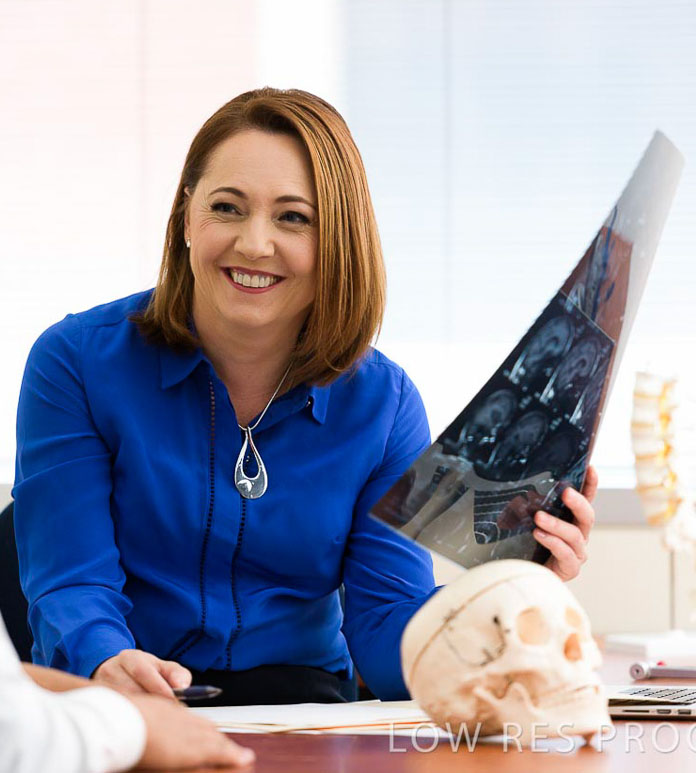 Our Services
Adelaide Neurosurgery Centre provide a comprehensive and consultative journey for our patients in both areas of spinal and neurosurgical conditions.
Treatment & Management
Adelaide Neurosurgery Centre is a specialised spinal and neurosurgical centre, offering both surgical and medical intervention.
About Dr. Harding
Dr Marguerite Harding obtained fellowship recognition 15 years ago and has continued practising neurosurgery in South Australia for over 12 years.
Preparing for your appointment
Please bring the following:
Valid referral letter
Medicare card/ DVA card/ Pension card
Private medical insurance information
All relevant X-Rays/ CT/ MRI as well as reports and other relevant medical results.
Please download the registration form for completion and return to us via email, or bring to your appointment.
Please view the medication list and advise Dr Harding at your appointment if you are taking any of these medications and / or other medications.
Our Special Interests
Degeneratlve spinal disease

Disc herniation
Spinal Stenosis
Facet joint arthropathy

Brain Tumours

Benign tumours
Skull base tumours
Pituitary tumours
Glioma tumours
Meningiomas
Ventricular tumours
Spinal tumours

Vascular malformations/ anomalies of the brain and spine

Aneurysm
Arteriovenous malformation
Cavernomas
Dural arteriovenous fistula

Trigeminal neuralgia
Hemifacial spasm
Hydrocephalus
Chiari malformations
Peripheral nerve conditions
FAQ's
Is a meningioma a cancer?
Meningiomas are common brain growth. The vast majority of the tumours are benign. This means that they are not cancers. However, a small proportion (less than 5%) are aggressive grade III tumours.
It is quite difficult to determine if your specific meningioma is one of the rare more aggressive ones. There are some features on imaging that may provide some clues, for example if it is growing quickly, or if the tumour is invading nearby structures such as the underlying brain or the overlying bone and muscle.
None of these features are absolute. The only way to know for sure the grade of aggressiveness of a tumour, is for a sample to be sent to the pathologist for analysis.
The mainstay of treatment for meningiomas is surgical removal. If the meningioma is high grade or if it cannot all be safely removed then additional treatment in the form of radiotherapy may be considered.
Are cortisone injections safe?
Cortisone is a steroid. Cortisone is anti-inflammatory. In the context of spinal pain, a cortisone injection targets an area of your spine either thought to cause regional pain, or referred pain. The cortisone injections are done by highly trained and experienced radiologists who use imaging to guide precisely where the cortisone is injected. Despite the best efforts and intentions of everyone involved in your treatment cortisone injections do not always work.
While some patient report that injection of the inflamed area of their body is painful, others do not experience much pain at the time of the injection. Everyone will respond differently. The radiologist doing the procedure will first inject local anaesthetic before giving you the injection.
Most people tolerate the injections well with no adverse reactions. There are some risks involved with the injection. There is a small risk of introducing infection deep into your body. This is minimised by cleaning the area for injection with an antiseptic solution before doing the injection.
There is also a small risk of causing a bleed near the nerve that is being targeted. For that reason, it is important to stop any blood thinners as advised before your procedure. Please let your doctor know if you have a bleeding disorder.
Cortisone can build up in your body if you take it orally or have frequent injections. Your doctor will tell you what the maximum safe exposure is for you.
I have new onset nerve pain – what should I do?
Nerve pain is generally sharp and shooting. Some people describe it as electric in nature. There are many causes for nerve pain; however, the most common reason is a pinched nerve in your spine causing pain radiating down your arm or leg.
It is best to treat this as soon as possible when it starts. You may be able to control it better, avoid needing "heavy" medications and prevent it becoming chronic.
The base level medication for this is regular Panadol and a non-steroidal anti-inflammatory if you can take the latter. Non-steroidal anti-inflammatories (abbreviated NSAIDS) include Neurofen, Brufen, Voltaren, Mobic and Celebrex. NSAIDS should always be taken after eating something. Some people are not able to take NSAIDs – you should always check with your doctor before starting this medication to make sure it is right for you.
You may then also need a nerve pain specific medication such as Lyrica, Amitriptyline or Neurontin. These are sophisticated medications, that will need a prescription. They all have some side effects and it is best to discuss this further with your doctor before taking the medications.
If you still have breakthrough pain despite these medications you should discuss the option of short-term opioid (morphine- related) medications. Your doctor will examine you and discuss with you if any further tests such as a CT or MRI are needed at this point.
What exercise can I do for my back pain?
When you are in severe pain, it is hard to imagine doing any exercise. Never-the-less it is important to keep moving. The spine is a complex set of highly specialised joints that keep you upright and mobile.
You do need to keep them moving to keep them functioning. The old adage "use it or lose it" hold true here.
The best thing at this point, is simple walking. Walking is something that everyone knows how to do. You do not have to have high expectations of long walks here. Multiple short walks are better.
Concentrate on engaging your core muscles, and walk at your own pace.
I have a slipped disc in my back, and a pinched nerve – what are my options?
Your doctor will have arranged a scan for you and referred you for specialist advise. The following is general discussions and you will need your doctor to tell you which options are best for you.
In essence, there are three possible avenues open to you.
1. Pain medication +/- Physiotherapy
2. Nerve root block aka cortisone injection
3. Surgery – most commonly a microdiscectomy, however there are other possibilities depending on your specific condition.
Book an Appointment
Providing you with all the information you need, so that we can make sound decisions about your best medical care together.